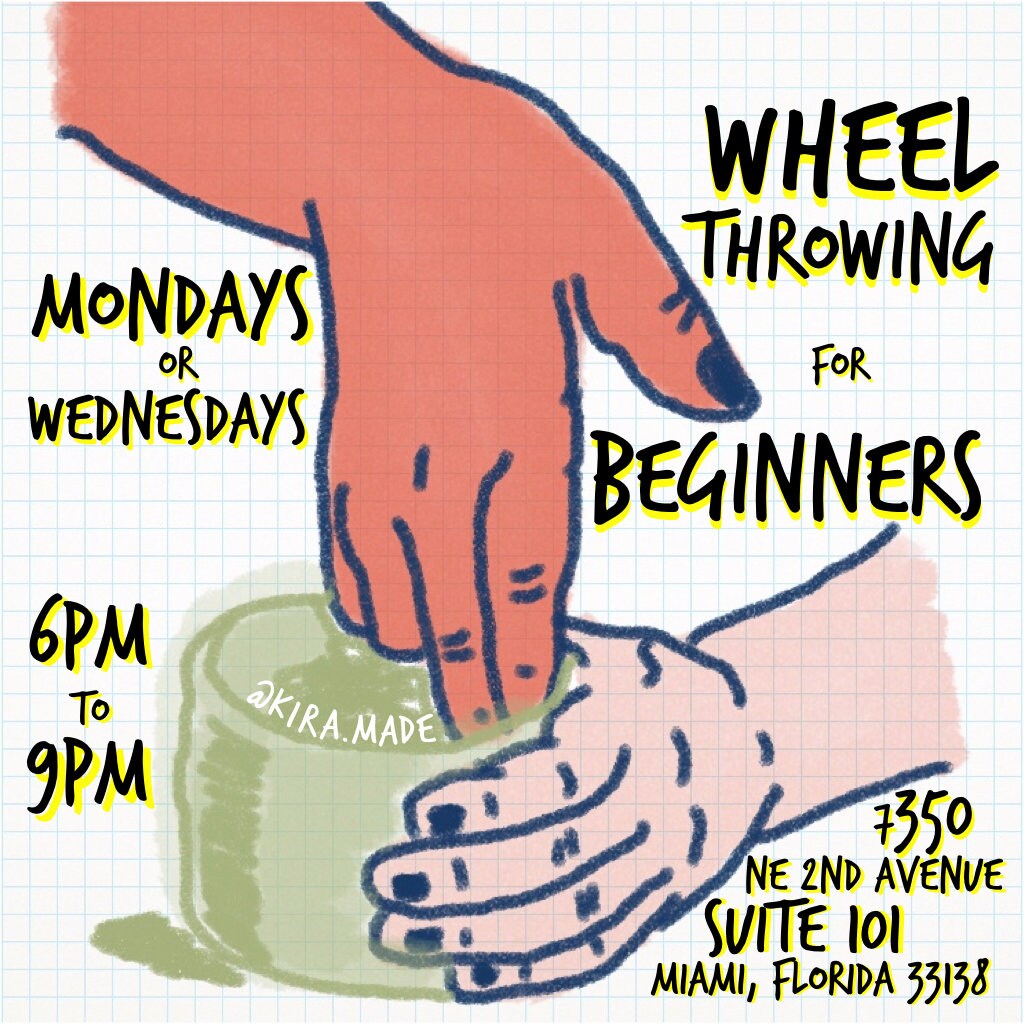 1-Day Beginners Wheelthrowing Class
$65.00
Details
WHEEL-THROWING FOR BEGINNERS
3-hour workshop | Mondays OR Wednesdays | 6PM - 9PM

All levels welcome | Limited space available

COURSE DESCRIPTION
If you want to be a potter, this is where it all begins! Learn the art of wheel-throwing with one-on-one guidance, strictly focusing on building your skills for 3 hours on coning, centering, opening, pulling, shaping and trimming.

COURSE FEE INCLUDES
- One-on-one guided instructions in group setting;
- Access to materials, tools, and equipment;
- First 3lbs of clay are FREE | $1.00 per additional lb, $25.00 for 25lb bag;
- Bisque & glaze firing | Your piece(s) will be glazed in a white-speckled glaze finish.

> If you'd like to have access to our glaze selection (over 12 different cone 6 glazes), purchase the "Glaze Pass" ($15.00) to come in for 1.5 hour on a Saturday to glaze your work.

AVAILABLE DISCOUNT + PERKS
Use code ZABOKA at checkout when purchasing 4 or more classes! This promo code includes:
- 10% discount;
- access to 10+ glazes;
- FREE open studio on Saturdays 1PM to 6PM.
Shipping from United States
Processing time
1 business day
Customs and import taxes
Buyers are responsible for any customs and import taxes that may apply. I'm not responsible for delays due to customs.
Returns & Exchanges
I don't accept returns, exchanges, or cancellations
But please contact me if you have any problems with your order.
Frequently Asked Questions
What are the safety protocols?
All members and non-members must follow general safety protocol. Safety glasses are required while working with the grinder. Breathing masks are required while sanding greenware. While in wheel throwing class, long hair must be tied back & dangling jewelry removed.

Should you become injured while working, please report the incident to your instructor or the Studio Manager immediately. Your safety is our priority!
Who is responsible to clean after me?
You are responsible to clean after yourself :)

All working areas must be cleaned after use. Give yourself 15 minutes to gather tools and clean work tables, floors, tools, equipment, glazing area, and lids on glazes.

All tools, sponges, brushes, containers, etc. are to be washed and put back in designated places. This also applies for the plastics, newspapers, glazes, and boards. Keep countertop free of clutter.

Remember, this is a communal studio space, and its cleanliness depends on everyone doing their part.
Can I take work in progress home?
We recommend you leave your work in progress in our studio, however, you are welcome to take your work home, but at your own risk. If you intend to take work in progress home, you will need to bring your own board for transport. Boards/bats are not to leave the premises.

Our studio tools neither may never be borrowed, privately stored away for ongoing projects, or taken off the premises for any reason.
I'm not sure when I'll be able to pick up my work... Can I leave it in the studio?
Bisque and glazed pieces have to be picked up within 30 days of firing. After that, work will become the property of Kiramade.
Can I bring my own clay?
As of May 1, 2018, only Standard clay provided by Kiramade will be permitted. Do not bring outside clay to the studio, if you have questions about the clay that we use, feel free to ask us.

Clay must be purchased through the Studio Manager. We accept cash, CC, Apple Pay, and PayPal as forms of payment.
Ouch! I hurt myself during the workshop. What do I do now?
Should you become injured while working, please report the incident to the Studio Manager immediately. Your safety is our priority!
Anything else I should know about?
If you don't know how to use something, we are more than happy to teach you how to use it! It is always ok - and preferred - to inquire if you have any questions.

There is absolutely NO eating in the studio! This isn't healthy for you and we want to keep the studio clean.

Conserve resources as much as possible. Use studio towels instead of paper towels. Reuse plastic bags, and preserve newspapers. Recycle clay by placing clay scraps in the appropriate labeled bucket.

Finally, remember to trust your process, and have a great time during your Kiramade Workshop!